Mythic +17 x10 Timed Runs + Two Free Traders
Excellent 4.8
out of 5
Trustpilot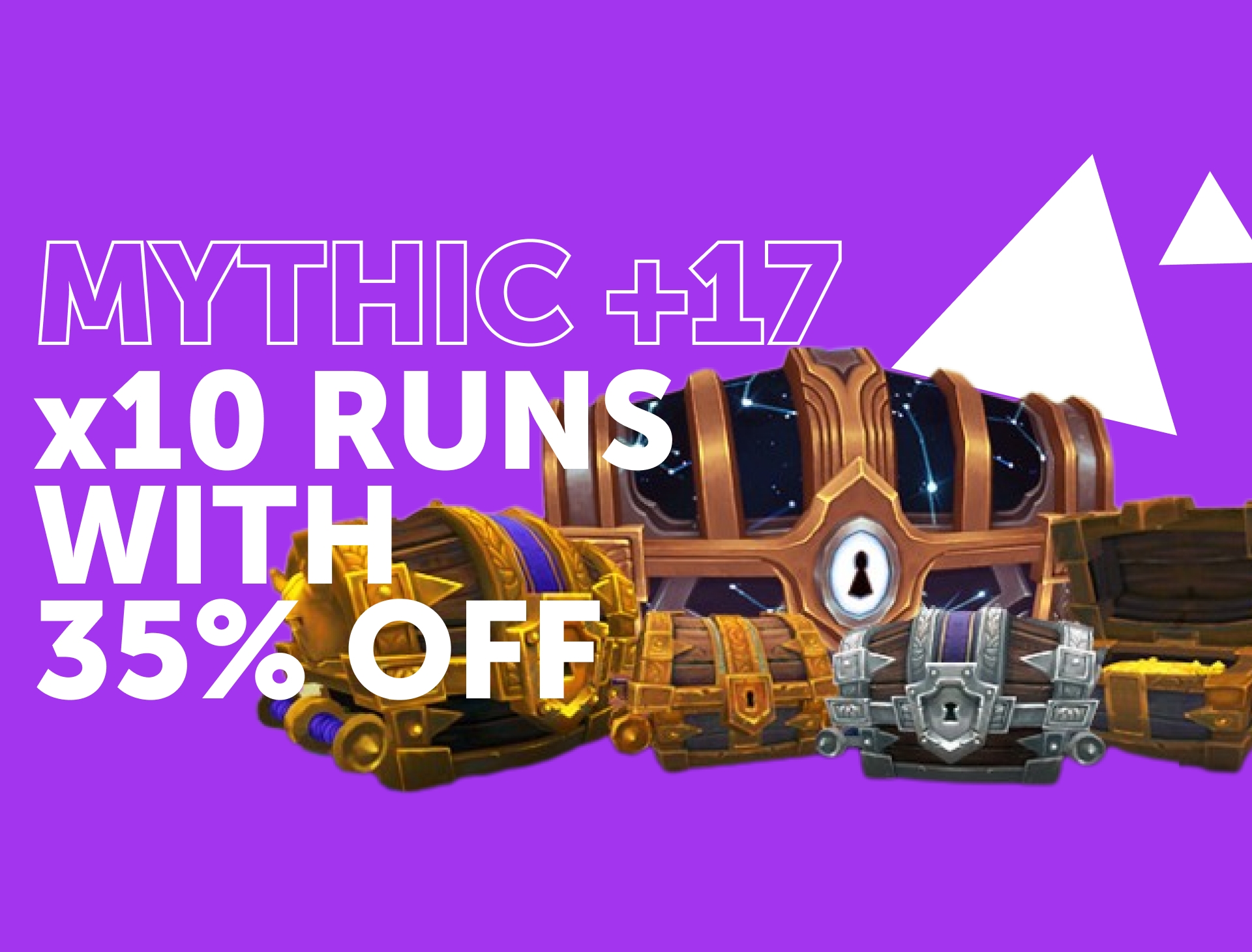 What you get

Ten Mythic +17 Dungeons
completed in time with Free Loot Trader

Mythic+ score increased
for every completed dungeon (if you don't complete this dungeon earlier)

Guaranteed four 428 ilvl items
from dungeon chests

Three Mythic+ chests with 441 ilvl rewards
in the Great Vault

Minimum one
Aspect's Shadowflame Crest
Some progress in
Dragonflight Keystone Master: Season Two Achievement
Options
Service requirements
Active WoW subscription
Dragonflight expansion
70 level character (can be provided by our leveling services).
Huge discounts are here!
Mythic +17 is one of the most popular dungeons right now due to its availability and rewards. As a result, we created a large pack of ten Mythic +17! Without further ado, let's talk about what you get with this pack:
● At least 4 items 428 ilvl guaranteed;
● Minimum One Aspect's Shadowflame Crest (the powerful reagent for crafting 447 ilvl PvE gear);
● Three Mythic+ chests with 441 ilvl rewards in the Great Vault;
● Tons of Mythic+ Score.
You can complete your one-week goal, or you can split it into two weeks, it's up to you.
What do we offer?
After you place an order, we will match you with a group of PRO players that will suit you best for your order. You will join the group and complete 10 Mythic +17 dungeons. If you didn't select the specific dungeon option, then they will be absolutely random, although even so, most likely some of them will be repeated. After each dungeon, you will have a chance to get an item.
//
The service we offer is 100% secure, works for PC.
Our player will use a VPN. Only pure skills, knowledge, and experience - no cheats or any hacks/exploits involved. All prices include taxes and fees.
+ GGR cashback
Pay today and split the rest
How it works
1
Choose and Buy the service
Place an order after selecting all of the options that meet your requirements
2
Follow the Instructions
You will be asked to fill in specific details about your order
3
We Will Find the Most Suitable PRO
We'll select the best player who meets your expectations
4
During the order
You will have your own chat with a PRO player where you will receive all updates and can discuss everything in person or just chit-chat
5
Your order is complete
The best part is here. You can now fully enjoy your new loot, top rating, and achievements
Choosing Us - That's Your Smart Move
Total Security: Anonymous Boost Guaranteed
No cheats, hacks, or exploits are involved. Players use VPN to enter your account.
Fast Start & Furious Completion
We're ready for your order quick execution, but we are flexible to your schedule.
Top Value for Your Money
You can receive discounts based on your progress and by using our cashback and subscription programs.
We are Always Online
Just write in chat, and we will answer in a matter of minutes.
Overview
What Can The LFCarry Mythic Boost WoW Option Offer Me?
Are you looking for an efficient and reliable way to level up faster in WoW? If so, then you may want to consider a WoW Mythic Boost from LFCarry. Mythic Plus dungeons in World of Warcraft are incredibly important for a variety of reasons. Here we have listed some of the most important ones:
Firstly, they offer players a chance to test their skills and push their limits in challenging content.
Secondly, they provide an opportunity to obtain powerful gear and rewards that can be used to further progress in the game.
Finally, the rewards from Mythic Plus dungeons are unique and can't be found anywhere else in the game, making them highly sought after by players.
All in all, Mythic+ dungeons offer players a chance to challenge themselves and obtain rewards that can't be found elsewhere, making them an incredibly important part of World of Warcraft. However, if you aren't too keen on tackling that challenge on your own, our LFCarry Mythic Boost WoW option offers you a way to boost your character's level fast and gain access to end-game content.
Why Should I Use The WoW Mythic Boosting Service From LFCarry?
The WoW Mythic Boosting Service from LFCarry is designed to help players who are looking for an efficient and reliable way to level up fast. The service is designed and implemented by experienced professionals who have a deep understanding of the game. This ensures that players will be able to take advantage of the boost in a safe and secure manner. Using this service you'll be entitled to:
Four Mythic +17 dungeons completed in time + Free Loot Trader
Mythic+ score increased for every completed dungeon
Guaranteed 441 ilvl gear from weekly chest reward
Chance to get 428 ilvl gear from dungeon chest
Valor points and progress in Shadowlands Keystone Master: Season Four achievement
And you can also choose from various additional options like:
Add Fast Gearing by Mythic +17 - 288 ilvl
Add Aberrus, the Shadowed Crucible Heroic Raid
Add 2000 Mythic+ Score in Dragonflight Season 2 with One Free Trader
If you have additional questions about our WoW Boost Mythic deal, our Customer Support team is also dedicated to providing the best possible service. That way, players can rest assured that they will be taken care of if they ever have an issue. The choice is yours, make it now!
How Can A Wow Mythic Carry Help Me To LvL Up Fast?
A WoW Mythic Carry can help you to level up quickly and efficiently. You will be assigned one upon finishing your purchase. You can speak with them over a safe chat at our platform. Using it you can ask them questions and keep track of your account's progress safely. During the process they will:
Obtain powerful items, mounts and gear
Level up your character
Unlock new content for you
If you're looking for a reliable and efficient way to level up quickly in WoW, then you should consider ordering our WoW Mythic Boost at LFCarry.com. With the help of experienced professionals, players can rest assured that they will be able to take advantage of this boost safely and securely!
At LFCarry, we offer a range of World of Warcraft boosting services that cater to all of your gaming needs. Whether you're looking for WoW mythic boosting or power leveling services, we have got you covered. Our expert boosters are skilled and experienced in providing world-class WoW mythic carries that will take your gaming experience to the next level. We also offer WoW boost professions and WoW gladiator boost services that will give you an edge in the game. So, if you're looking for top-notch WoW mythic carries, power leveling, or mythic boost wow services, look no further than LFCarry. Trust us to provide you with the best WoW boosting services that will help you achieve your gaming goals.
+ GGR cashback
Pay today and split the rest