Aberrus Heroic Raid Pack
Excellent 4.8
out of 5
Trustpilot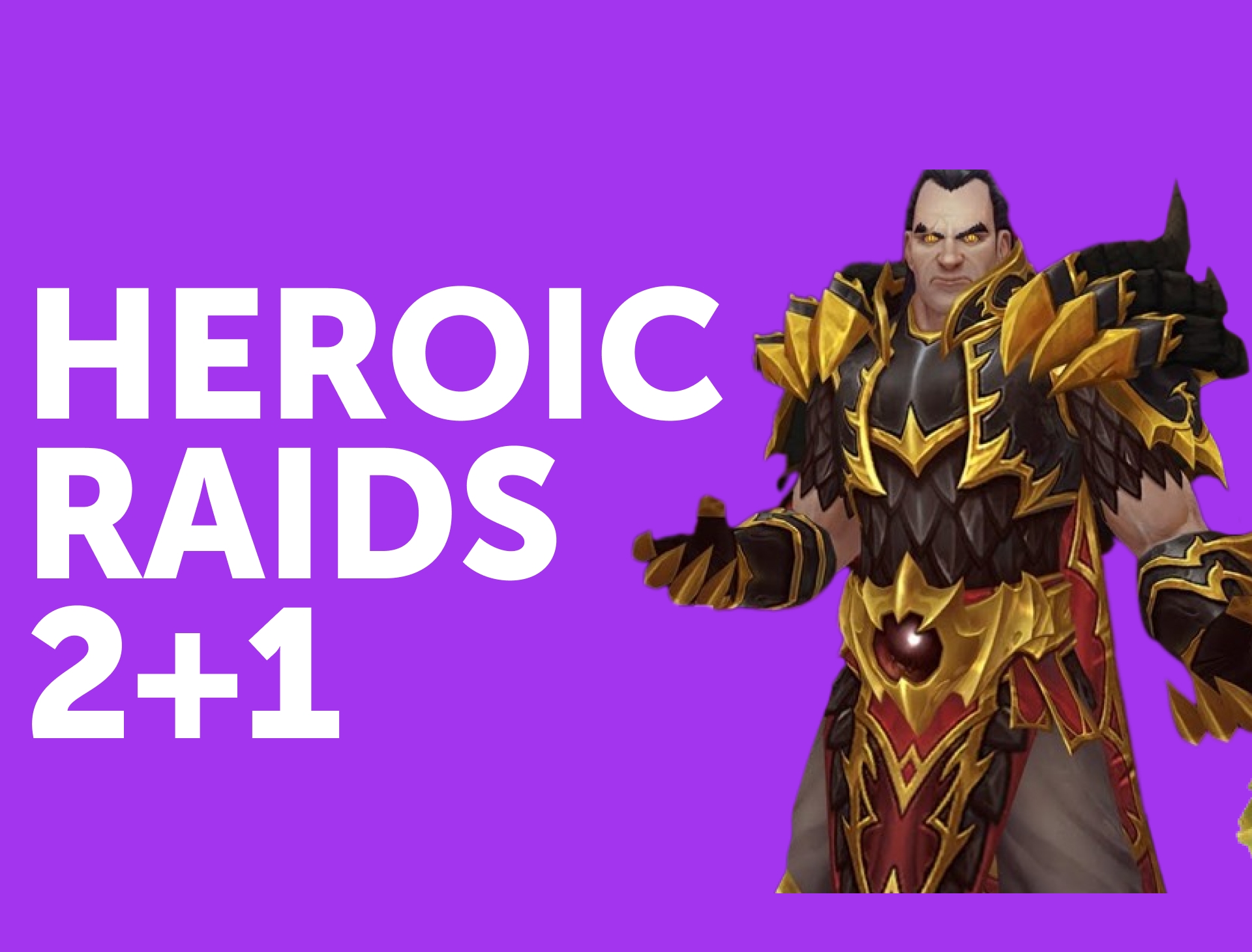 What you get

Three Aberrus Raid runs
on Heroic difficulty
An opportunity
to loot class tier set pieces
Chances to loot 428-437 ilvl gear
from Heroic raid

All achievements
for killing all bosses

Three rewards in the Weekly Great Vault
in each week

All items, craft resources, and gold
that might drop during this service
Options
Service requirements
70 level character (can be provided by our leveling services)
Active WoW subscription
Dragonflight expansion.
Three heroic raids for the price of two!
If you don't want to miss any of the raid weeks, you should get our Raid Pack. Raids are now one of the main sources of BiS loot for all players because many powerful items drop in raids. Getting three Heroic Raids for the price of two is the main benefit of our service. If you want to take a break from raiding for a few weeks or if you have alt characters, this is the right choice.
What do we offer?
After you place an order, we will match you with a group of pro players that will suit you best for your order. As part of this raid group, you will complete three Heroic raids quickly and comfortably. After defeating each boss, you will have a chance to get 428–437 ilvl loot and get achievements for defeating bosses.
You can complete all raids in one week on different characters, or you can split this up over three weeks.
If you want to add priority loot to your order, contact our manager in chat, and he will make a personal offer for you.
Due to the change in the Dragonflight loot system, it will be Group Loot by default. Everything you get will depend only on your luck. But if you want guaranteed items, check the options below.
● Priority Armor and Tokens - you and three other players will join a group of unsaved PROs who have clear CDs. Every player will have a chance to obtain at least four items during the raid. There won't be another player in the raid group using the same type of armor as you, so if an item drops, it definitely will be yours. But you'll still have to roll everything else (rings, weapons, necks, trinkets, and the back) with the other players.
● Full Loot Priority - the fastest way to gear up. You will be the only customer in the raid group, so you will get all suitable loot from armor and tier set tokens to non-set gear, trinkets, and weapons without limitation. The number of items you can get will increase to about 20. Also, you can invite to the raid from 1 to 2 friends to share possible loot with them.
The service we offer is 100% secure.
Our Players will use a VPN. Only pure skills, knowledge, and experience - no cheats or any hacks/exploits involved. All prices include taxes and fees.
+ GGR cashback
Pay today and split the rest
How it works
1
Choose and Buy the service
Place an order after selecting all of the options that meet your requirements
2
Follow the Instructions
You will be asked to fill in specific details about your order
3
We Will Find the Most Suitable PRO
We'll select the best player who meets your expectations
4
During the order
You will have your own chat with a PRO player where you will receive all updates and can discuss everything in person or just chit-chat
5
Your order is complete
The best part is here. You can now fully enjoy your new loot, top rating, and achievements
Choosing Us - That's Your Smart Move
Total Security: Anonymous Boost Guaranteed
No cheats, hacks, or exploits are involved. Players use VPN to enter your account.
Fast Start & Furious Completion
We're ready for your order quick execution, but we are flexible to your schedule.
Top Value for Your Money
You can receive discounts based on your progress and by using our cashback and subscription programs.
We are Always Online
Just write in chat, and we will answer in a matter of minutes.
Overview
Aberrus Heroic Raid Pack: Elevate Your WoW Raiding Experience
Step into the intense world of World of Warcraft with the might of the Aberrus Heroic Raid Pack. Crafted for dedicated raiders, our service ensures you make a mark in the most challenging raid environments.
Aberrus Heroic Carry: Why It's the Elite Choice
With the Aberrus Heroic carry service we offer, you're not merely navigating a raid — you're ruling it. The perks of our package are unmatched:
Mastery over the Aberrus raid with ease.
An expert team backing you, amplifying your raiding prowess.
The advantage of experience, ensuring every raid turns into a memorable victory.
Gear Up with the Aberrus Paladin Set
A champion is only as strong as their gear. And with the Aberrus Paladin set that you can get for beating the raid, you're not just armed — you're fortified. Here's why:
Get access to elite gear tailored for Paladins in the Aberrus raid.
Enhance your gameplay with bonuses exclusive to the Paladin set.
Embrace a blend of power, style, and strategy with every piece of equipment.
Buy Aberrus Heroic Raid Carry: A Seamless Raiding Experience
Thinking of where to buy Aberrus Heroic raid carry? Look no further. Our service ensures:
Speedy progression through the Aberrus Heroic raid.
Expert guidance, ensuring you grasp the intricacies of the raid.
A smooth and hassle-free raiding journey, devoid of the usual roadblocks.
Requirements and Rewards: Ilvl for Heroic Aberrus
Are you raid-ready? Ensure you meet the ilvl for Heroic Aberrus to optimize your raid experience. And remember, every raid isn't just about the challenge; it's about the rewards that await.
+ GGR cashback
Pay today and split the rest