Wet Job Part 4
Excellent 4.9
out of 5
Trustpilot
(based on 7847 reviews)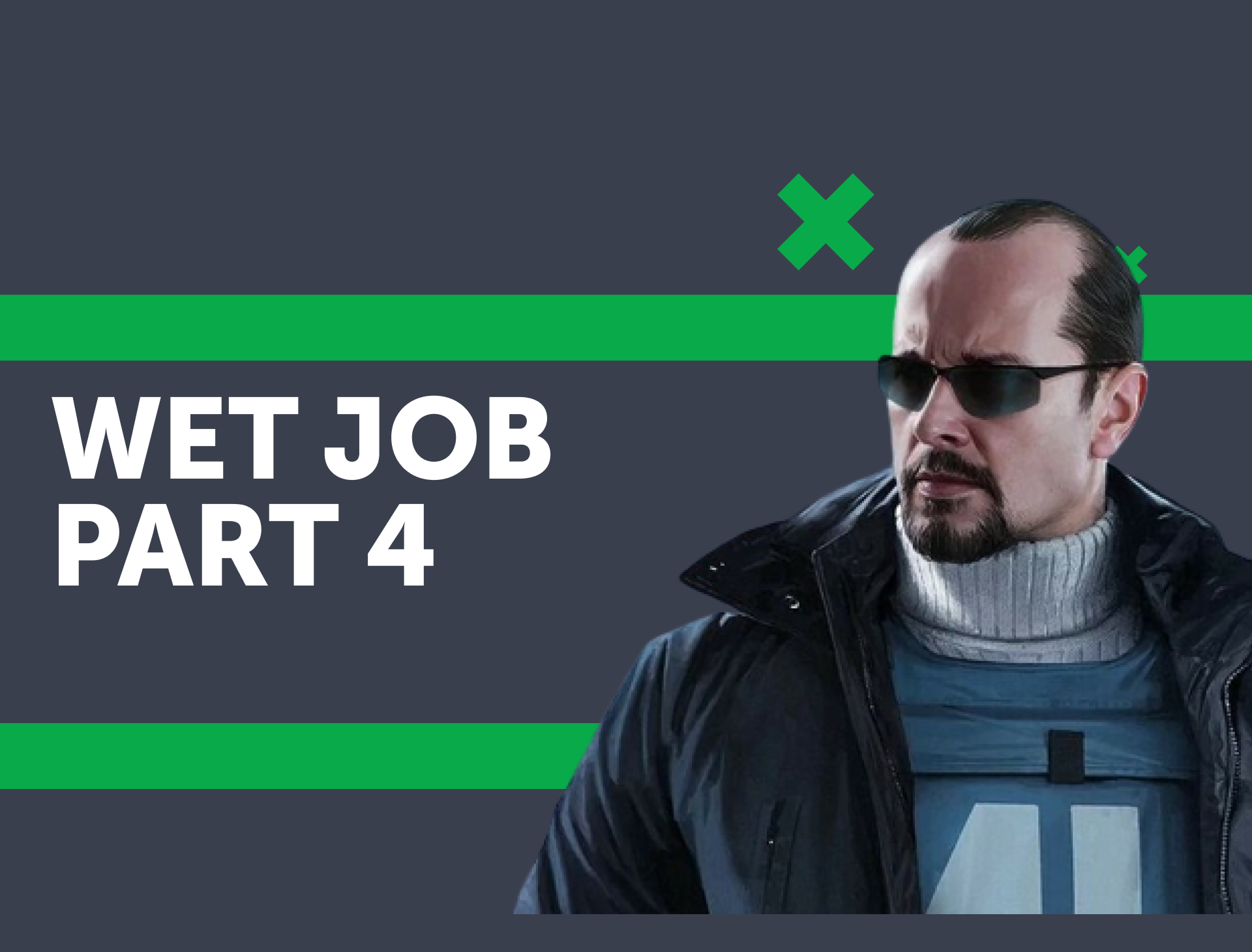 What you get

Wet Job Part 4
Quest completed

The Reputation rewards
upon completion

All the Gear and Weapon rewards
from the quest completion

Any unlocks achieved
during the service

Any weapons and gear
that you will get during the raid

A lot of experience
for your character
Options
Service requirements
The quest must be already active on your character.
If you are not high enough level to get the quest, consider our Leveling Service offer.
Quests are the fastest way of gaining experience. They also provide you with the vendor's reputation, money, valuable loot, rare containers and may unlock new items for purchasing.
//
Our players will handle Wet Job Part 4 quest quickly and efficiently. You will enjoy the reward not only from the quest itself but also from the raid it was completed in.
//
The service is 100% guaranteed and safe, works for PC, PS, and Xbox.
Our player will use a VPN. Only pure skills, knowledge, and experience - no cheats or any hacks/exploits are involved. All prices include taxes and fees.
See what other players like you think about their experience with LFCarry.com
+ GGR cashback
Pay today and split the rest
How it works
1
Choose and Buy the service
Place an order after selecting all of the options that meet your requirements
2
Follow the Instructions
You will be asked to fill in specific details about your order
3
We Will Find the Most Suitable PRO
We'll select the best player who meets your expectations
4
During the order
You will have your own chat with a PRO player where you will receive all updates and can discuss everything in person or just chit-chat
5
Your order is complete
The best part is here. You can now fully enjoy your new loot, top rating, and achievements
Choosing Us - That's Your Smart Move
Total Security: Anonymous Boost Guaranteed
No cheats, hacks, or exploits are involved. Players use VPN to enter your account.
Fast Start & Furious Completion
We're ready for your order quick execution, but we are flexible to your schedule.
Top Value for Your Money
You can receive discounts based on your progress and by using our cashback and subscription programs.
We are Always Online
Just write in chat, and we will answer in a matter of minutes.
Overview
What is Tarkov Wet Job Part 4?
Tarkov Wet Job Part 4 is integral to the enthralling and realistic online multiplayer game, Escape from Tarkov. This mission, part of the Wet Job quest series, is a thrilling endeavor that will test your survival and tactical skills in the unpredictable environment of Tarkov.
What are the Advantages of Our Tarkov Wet Job 4 Carry Service?
With our Tarkov Wet Job 4 Carry Service, you receive:
Experienced guidance and completion of the "Wet Job - Part 4 Tarkov" mission
Saved time and reduced stress, enhancing your overall gaming experience
A potential influx of in-game rewards tied to the mission
An efficient pathway to Complete Wet Job - Part 4 Tarkov
At LFCarry.com, we ensure you successfully navigate the challenges of this mission with the aid of our professional and experienced players.
Why Should You Choose LFCarry.com to Assist with Your Tarkov Wet Job Part 4 Needs?
There are compelling reasons to select LFCarry.com for your Tarkov Wet Job 4 needs:
High level of trust and expertise from our experienced game boosters
Fast and efficient completion of your Escape from Tarkov Wet Job Part 4 mission
Transparent and fair prices with an easy-to-navigate interface
Quality service and complete transparency throughout your mission-boosting process
By choosing LFCarry.com, you're ensuring the completion of the Wet Job 4 Tarkov mission and a more rewarding and stress-free gaming experience. Trust us to elevate your gaming performance and enjoy the game on a new level!
+ GGR cashback
Pay today and split the rest