Veteran Mid-Game Pack
Excellent 4.8
out of 5
Trustpilot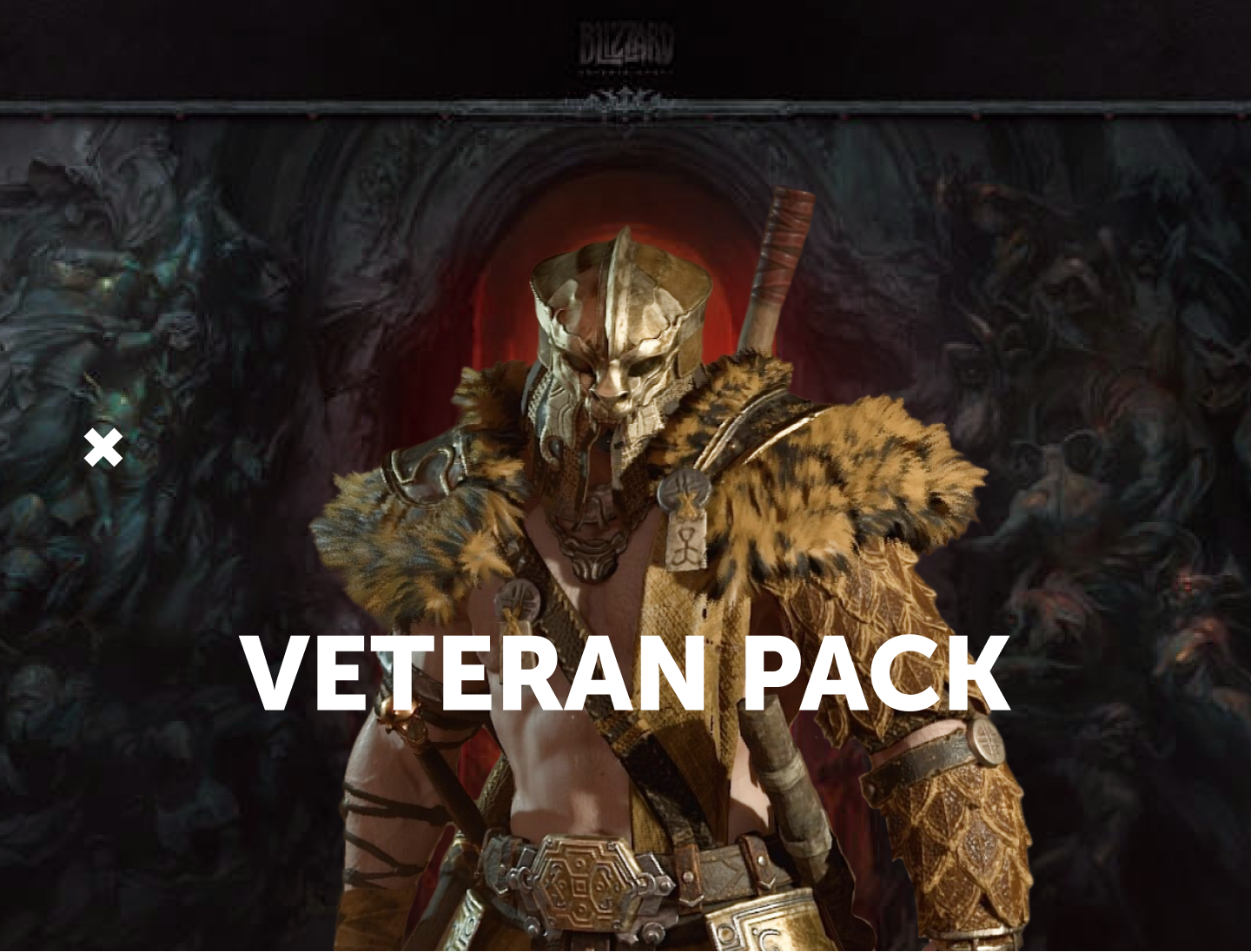 What you get

All altars of Lilith
in every zone are collected

All waypoints
in every zone are unlocked

Cathedral of Light
capstone dungeon completed
Nightmare Difficulty
unlocked

A suitable mid-game build
for solo play is assembled
Options
Service requirements
There are no specific requirements for this service.
The base price is valid only if you are playing on a PC. If you are a console player, please, choose the corresponding option above with the correct price.
Start your endgame!
This pack concentrated on the first part of the game; specifically, after our player completes the order, you will be ready to play "real" Diablo, because true gameplay starts on nightmare difficulty.
What's inside the Veteran Mid-Game Pack?
1. 1–75 leveling
2. Full story line completion (if you don't need it, check the options below).
3. All altars of Lilith in every zone are collected.
4. All strongholds in every zone are cleared.
5. All waypoints in every zone are unlocked.
6. All dungeon aspects for one class are collected.
7. Cathedral of Light capstone dungeon completed.
8. Nightmare Difficulty unlocked.
10. All class specializations for one character are unlocked.
11. Renown level 4 in every zone.
12. A suitable mid-game build for solo play is assembled (depending on class and starting meta).
Don't hesitate to write it down in our chat; our managers are always ready to give you more information if needed or create a special bundle just for you.
//
If you want more, check out our other bundle offers.
//
The service is 100% guaranteed and safe, works for PC.
No cheats or any hacks/exploits are involved - only pure skills, knowledge, and experience. All prices include taxes and fees.
See what other players like you think about their experience with LFCarry.com
+ GGR cashback
Pay today and split the rest
How it works
1
Choose and Buy the service
Place an order after selecting all of the options that meet your requirements
2
Follow the Instructions
You will be asked to fill in specific details about your order
3
We Will Find the Most Suitable PRO
We'll select the best player who meets your expectations
4
During the order
You will have your own chat with a PRO player where you will receive all updates and can discuss everything in person or just chit-chat
5
Your order is complete
The best part is here. You can now fully enjoy your new loot, top rating, and achievements
Choosing Us - That's Your Smart Move
Total Security: Anonymous Boost Guaranteed
No cheats, hacks, or exploits are involved. Players use VPN to enter your account.
Fast Start & Furious Completion
We're ready for your order quick execution, but we are flexible to your schedule.
Top Value for Your Money
You can receive discounts based on your progress and by using our cashback and subscription programs.
We are Always Online
Just write in chat, and we will answer in a matter of minutes.
Overview
Roll Into the Endgame Like a Boss with This Veteran Pack
This pack is designed to propel you into the thrilling endgame content of Diablo 4 by getting youdiablo 4 mid game with a list of things suitable for the end of Diablo 4 mid game. After our expert player completes your order, you'll be fully prepared to dive into the "real" Diablo experience, starting from nightmare difficulty. Let's take a look at what this pack includes:
1–75 leveling: lvl up your character to progress through the Diablo 4 midgame content.
Full story line completion (optional): Choose whether you want to experience the immersive story of Lilith "empowering" Sanctuary or jump straight into the endgame activities.
All altars of Lilith unlocked: grants passive stat increases for all characters on the same server.
All strongholds cleared: Conquer tough open-world encounters, earn valuable loot, and increase your renown level with each zone.
All waypoints on the map unlocked: Enjoy the convenience of quick travel across the vast world of Diablo 4, saving time and enhancing your questing and farming efficiency.
All dungeon aspects collected: Gather every aspect to enhance your class-specific abilities.
Cathedral of Light Capstone dungeon location visitied and cleared: Overcome challenges and progress to the next stage of your adventure.
Nightmare unlocked: Unlock the challenging nightmare difficulty setting to push your skills to the limit.
Class specializations unlocked: Expand your options and unlock the full potential of your chosen class.
Renown level 4 in every zone: Reach new heights of renown, earning additional skill points for further customization.
A suitable mid-game build for solo play is assembled: Receive a carefully crafted veteran starter pack build tailored to your class and the current meta.
Become Diablo 4 veteran with one offer and join the ranks of true Diablo fans!.
+ GGR cashback
Pay today and split the rest