Hunter's Acclaim Reputation
Excellent 4.9
out of 5
Trustpilot
(based on 7847 reviews)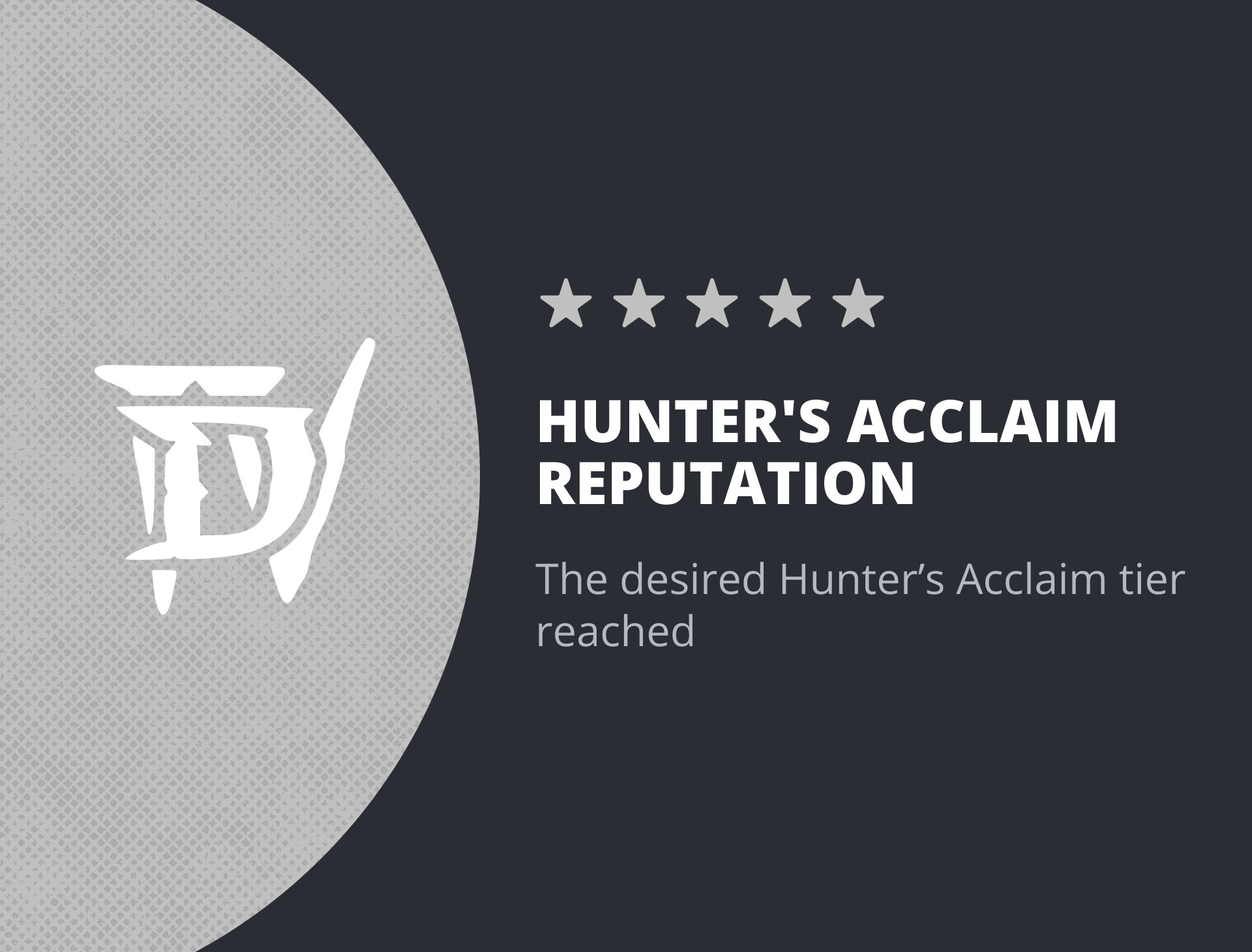 What you get

The desired Hunter's Acclaim tier
reached.

Blood Harvest Events
completed

Everything that drops out
during the service is yours
Service requirements
How does our Hunter's Acclaim Reputation service work?
After you place an order, we will go through our player base and select one that will suit you best for your order.
We will match you with a PRO who will boost your Hunter's Acclaim Reputation the fastest way possible. You will have a private chat with your player. The PRO will inform you of all progress and your order's current status in this chat. You can also ask him any questions. Alongside it, don't forget we have a 24-7 support team ready to help you.
//
What is our main difference from our competitors? We guarantee 100% safe service!
No cheats, hacks, or exploits are involved - only pure skills, knowledge, and experience are involved. You can find a lower cost with our competitors, but this is a kill using a bug, which does not guarantee the safety of your account. We have a hand-made service without the use of bugs, so your account will be safe.
+ GGR cashback
Pay today and split the rest
How it works
1
Choose and Buy the service
Place an order after selecting all of the options that meet your requirements
2
Follow the Instructions
You will be asked to fill in specific details about your order
3
We Will Find the Most Suitable PRO
We'll select the best player who meets your expectations
4
During the order
You will have your own chat with a PRO player where you will receive all updates and can discuss everything in person or just chit-chat
5
Your order is complete
The best part is here. You can now fully enjoy your new loot, top rating, and achievements
Choosing Us - That's Your Smart Move
Total Security: Anonymous Boost Guaranteed
No cheats, hacks, or exploits are involved. Players use VPN to enter your account.
Fast Start & Furious Completion
We're ready for your order quick execution, but we are flexible to your schedule.
Top Value for Your Money
You can receive discounts based on your progress and by using our cashback and subscription programs.
We are Always Online
Just write in chat, and we will answer in a matter of minutes.
Overview
Can the Diablo 4 Hunter Class Redefine Your Adventure?
The Diablo 4 hunter emerges as a formidable force, a class that blends stealth with raw power. As a Hunter in Diablo 4, you're not just a participant in Sanctuary's tales; you're a pivotal character shaping the narrative with every arrow shot and trap laid. The hunter's journey is one of cunning and agility, where survival hinges on the ability to adapt and outsmart the lurking evils.
Why Should You Strive for Hunter's Acclaim Reputation in Diablo 4?
Elevating your Hunter's Acclaim Reputation in D4 offers unparalleled power and privilege:
Exclusive Skills: Unlock powerful abilities exclusive to those who've mastered the hunter's path.
Event Participation: Take part in special events like the blood harvest in Diablo 4, offering unique challenges and rewards.
Rare Equipment: Don unique gear that enhances your prowess and showcases your elite standing.
Strategic Alliances: Gain the trust of influential factions and access critical intelligence.
Prestige Among Peers: Earn respect from fellow players and NPCs with a high reputation.
Engaging in the Diablo 4 Hunter's Acclaim reputation farm is a journey of growth, where each achievement contributes to your legend.
Why Do Clients Choose Our D4 Hunter's Acclaim Rep Boosting?
Discerning Diablo 4 enthusiasts turn to LFCarry for their Hunter's Acclaim Rep Boosting for numerous reasons:
Choosing LFCarry for your D4 Hunter's Acclaim Rep Boosting is not just about improving stats; it's about forging a path of legend in the world of Diablo 4.
+ GGR cashback
Pay today and split the rest