Alt Characters Pack
Excellent 4.8
out of 5
Trustpilot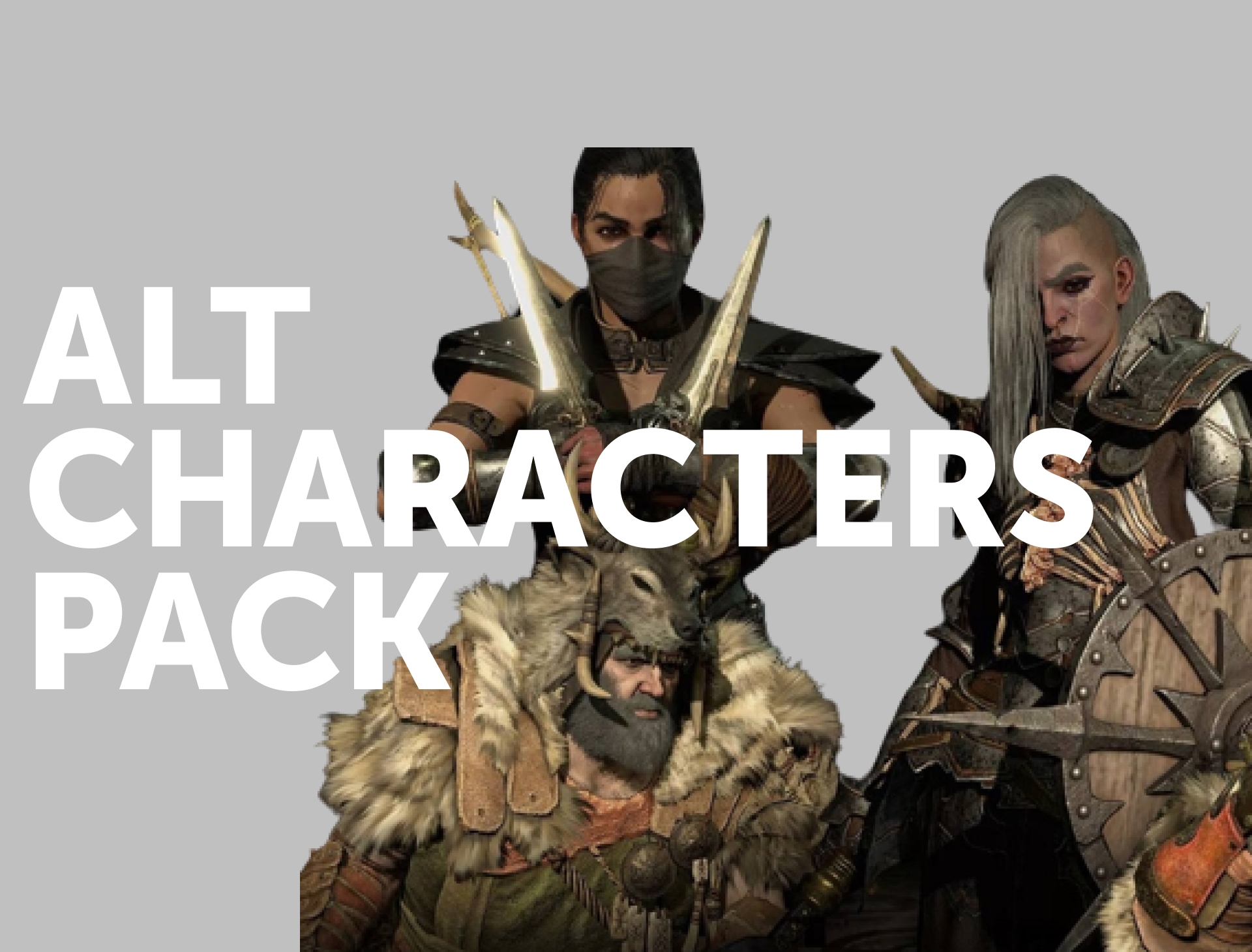 What you get

Five 50 Level characters
on your account


All possible classes
in the game

All waypoints
in every zone are unlocked

All altars of Lilith
in every zone are collected

Some renown
in every zone
Options
Service requirements
There are no specific requirements for this service.
The base price is valid only if you are playing on a PC. If you are a console player, please, choose the corresponding option above with the correct price.
Get all classes on your account!
Do you want to try all character classes but don't want to spend time on leveling? Leveling as many as five characters is a long and tedious process, especially if your class reveals only at level 50. We understand that you value your time and want to do everything possible so that you can experience pleasant emotions and improve your gaming experience. Therefore, we will help you with all of them! This pack will help you quickly put your characters face-to-face with a mid-game breakpoint after the most boring leveling part.
How does it work?
After you place an order, we will go through our player base and select one that will suit you best for your order. We will match you with a PRO who will complete your order the fastest way possible. Our PRO player will reach level 50 in every class in the game. He will do it gradually, character by character. If you already have some characters and don't need another one, you can choose additional options and reduce the price.
You will have a private chat with your player. The PRO will inform you of all progress and your order's current status in this chat. You can also ask him any questions. Alongside it, don't forget we have a 24-7 support team ready to help you.
Please note: If you have not completed the main campaign on any character, then we will complete it for you for free.
//
The service is 100% guaranteed and safe, works for any platform.
No cheats or any hacks/exploits are involved - only pure skills, knowledge, and experience. All prices include taxes and fees.
+ GGR cashback
Pay today and split the rest
How it works
1
Choose and Buy the service
Place an order after selecting all of the options that meet your requirements
2
Follow the Instructions
You will be asked to fill in specific details about your order
3
We Will Find the Most Suitable PRO
We'll select the best player who meets your expectations
4
During the order
You will have your own chat with a PRO player where you will receive all updates and can discuss everything in person or just chit-chat
5
Your order is complete
The best part is here. You can now fully enjoy your new loot, top rating, and achievements
Choosing Us - That's Your Smart Move
Total Security: Anonymous Boost Guaranteed
No cheats, hacks, or exploits are involved. Players use VPN to enter your account.
Fast Start & Furious Completion
We're ready for your order quick execution, but we are flexible to your schedule.
Top Value for Your Money
You can receive discounts based on your progress and by using our cashback and subscription programs.
We are Always Online
Just write in chat, and we will answer in a matter of minutes.
Overview
Alt Characters Pack for Diablo 4: Accelerate Your Gaming Experience
Looking for a seamless and efficient way to level up your alternative characters in Diablo 4? Dive into our Alt Characters Pack that's been specifically tailored to enhance your gaming journey. Discover how you can master diablo 4 alt leveling without breaking a sweat.
Why Alt Leveling in Diablo 4 Matters
Experience Versatility: Different characters offer unique playstyles. Delving into alt character leveling diablo 4 lets you experience the game from multiple perspectives.
Diversified Strategies: Each character requires different strategies and gameplay techniques. By leveling alt diablo 4 characters, you gain comprehensive knowledge of every class.
Achievement Hunt: Some in-game achievements are character-specific. With diablo 4 leveling an alt, you stand a better chance at completing them all.
Benefits of the Alt Characters Pack
Efficiency: Learn the diablo 4 best way to level alts with our detailed guides and tips.
Time-saving: Seeking the diablo 4 fastest way to level alts? This pack offers time-saving techniques to get you there faster.
Professional Support: Our diablo 4 carry professionals ensure you get value for your purchase, ensuring smooth alt leveling diablo 4 sessions.
Why Choose Us for Diablo 4 Leveling Alts?
When it comes to diablo 4 alt character leveling, we are second to none. We have:
Comprehensive Analysis: Based on information from authoritative sources, ensuring up-to-date techniques.
Human Touch: Our guidance is written by Diablo 4 enthusiasts for enthusiasts.
Unmatched Expertise: Our understanding of diablo 4 level alts fast and overall game mechanics ensures you're in safe hands.
Join the ranks of satisfied gamers who have unlocked the full potential of their characters with our Alt Characters Pack. Dive deep into the world of Diablo 4 with versatility, expertise, and efficiency like never before.
+ GGR cashback
Pay today and split the rest