Season of the Deep Full Seal (Aquanaut Title)
Excellent 4.8
out of 5
Trustpilot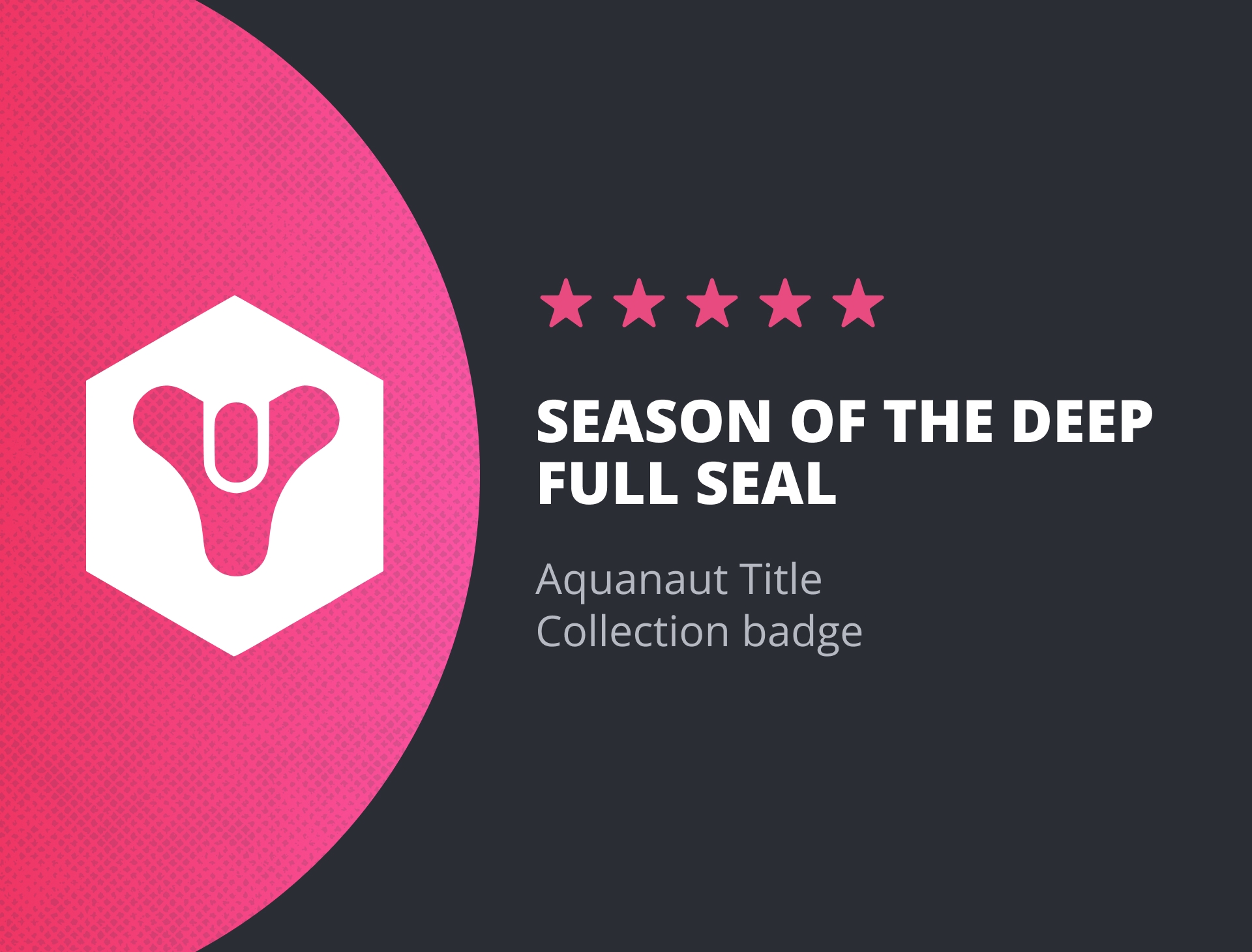 What you get


Progress
to your Season of the Deep Seal

Any gear and resources
that might drop during the service

Experience
for your Season Pass and Artifact
Options
Service requirements
Obtain Season of the Deep Seal and Aquanaut Title!
Our professional players will help you complete the following Triumphs:
• Weekly Wetwork
• Challenges Accepted
• Echo Relocation
• Reprised Reckoning
• Big Fish
• Down the Drain
• Pressurized Deep
• Quantity Over Quality
• Ambitious Angler
• Secret Triumph
//
Please note: if you have any progress, don't hesitate to get in touch with us via chat for a personal discount. And if you're looking for other Triumphs, check out the Season of the Deep Seal category.
Don't waste your time on a tedious grind. Let our players handle it while you are enjoying the game in the way you want to.
//
The service we offer is 100% secure, works for PC, PS, and Xbox.
Our player will use a VPN. Only pure skills, knowledge, and experience - no cheats or any hacks/exploits are involved. All prices include taxes and fees.
See what other players like you think about their experience with LFCarry.com
+ GGR cashback
Pay today and split the rest
How it works
1
Choose and Buy the service
Place an order after selecting all of the options that meet your requirements
2
Follow the Instructions
You will be asked to fill in specific details about your order
3
We Will Find the Most Suitable PRO
We'll select the best player who meets your expectations
4
During the order
You will have your own chat with a PRO player where you will receive all updates and can discuss everything in person or just chit-chat
5
Your order is complete
The best part is here. You can now fully enjoy your new loot, top rating, and achievements
Choosing Us - That's Your Smart Move
Total Security: Anonymous Boost Guaranteed
No cheats, hacks, or exploits are involved. Players use VPN to enter your account.
Fast Start & Furious Completion
We're ready for your order quick execution, but we are flexible to your schedule.
Top Value for Your Money
You can receive discounts based on your progress and by using our cashback and subscription programs.
We are Always Online
Just write in chat, and we will answer in a matter of minutes.
Overview
How to Obtain the Season of the Deep Seal (Aquanaut Title)?
Are you an aspiring Guardian striving to reach new depths in the immersive universe of Destiny 2? Then you might have come across the Aquanaut Title introduced in the Season of the Deep. It is a sought-after accolade earned by completing ten distinct triumphs that are part of the seasonal gameplay. To earn the Aquanaut seal Destiny 2, you must successfully complete:
Weekly Wetwork
Challenges Accepted
Echo Relocation
Reprised Reckoning
Big Fish
Down the Drain
Pressurized Deep (one of the Aquanaut secret triumphs)
Quantity Over Quality
Ambitious Angler
Secret Triumph
Naturally, you might be wondering, "What are the secret triumphs for Aquanaut?". Well, only one has been revealed yet, and it's Pressurized Deep, which can be completed by having a Pressure Trial activated during every encounter of a Deep Dive. Another one is still a mystery and can be discovered upon completion. As for others on the list, each triumph offers its own unique challenge tied to weekly activities and missions you need to complete to get the Destiny 2 Aquanaut title.
What's so Hard About Getting D2 Aquanaut Title?
Though earning the Aquanaut title Destiny 2 is a prestigious achievement, getting there isn't a smooth sail. The following are some of the challenges players may encounter:
Each triumph requires a specific set of skills and thorough understanding of the game's mechanics
Some Aquanaut triumphs are time-consuming, requiring players to spend countless hours on their completion
The Aquanaut secret triumph, remains a mystery until the player discovers and completes it, adding a layer of complexity
Given these challenges, it's easy to see why players may opt for professional assistance, such as that provided by LFCarry, to secure the coveted seal and title.
Why Let LFCarry Help You with Obtaining Destiny 2 Aquanaut?
LFCarry stands as the optimal solution for Guardians aiming to secure the D2 Aquanaut title. Here are the undeniable reasons why:
Secure Gaming: LFCarry prioritizes your account's safety. We use VPNs to secure your data and never use cheats or illegal modifications

Professional Carriers: Our team of skilled players have a deep understanding of Destiny 2 and are capable of completing even Destiny 2 Aquanaut secret triumphs

Tailored Approach: We provide a personalized service, catering to individual gaming styles and preferences

Prompt Delivery: We value your time. Our carriers work efficiently to provide the fastest Season of the Deep title obtainment

Transparent Pricing: No hidden costs, no surprises! What you see is what you pay

Cheats-free Service: We play fair. All challenges, including Destiny 2 Aquanaut secret triumph, are completed by real players, not bots

Satisfaction Guarantee: We aim for 100% customer satisfaction. We won't rest until you get your title

24/7 Customer Support: Our dedicated customer service team is available round the clock to answer any queries or issues you might encounter
With LFCarry, conquering the coveted seal becomes a stress-free quest. Trust us, and we'll help you unlock the mysteries of the deep!
+ GGR cashback
Pay today and split the rest