Lightfall Full Seal (Virtual Fighter Title)
Excellent 4.9
out of 5
Trustpilot
(based on 7847 reviews)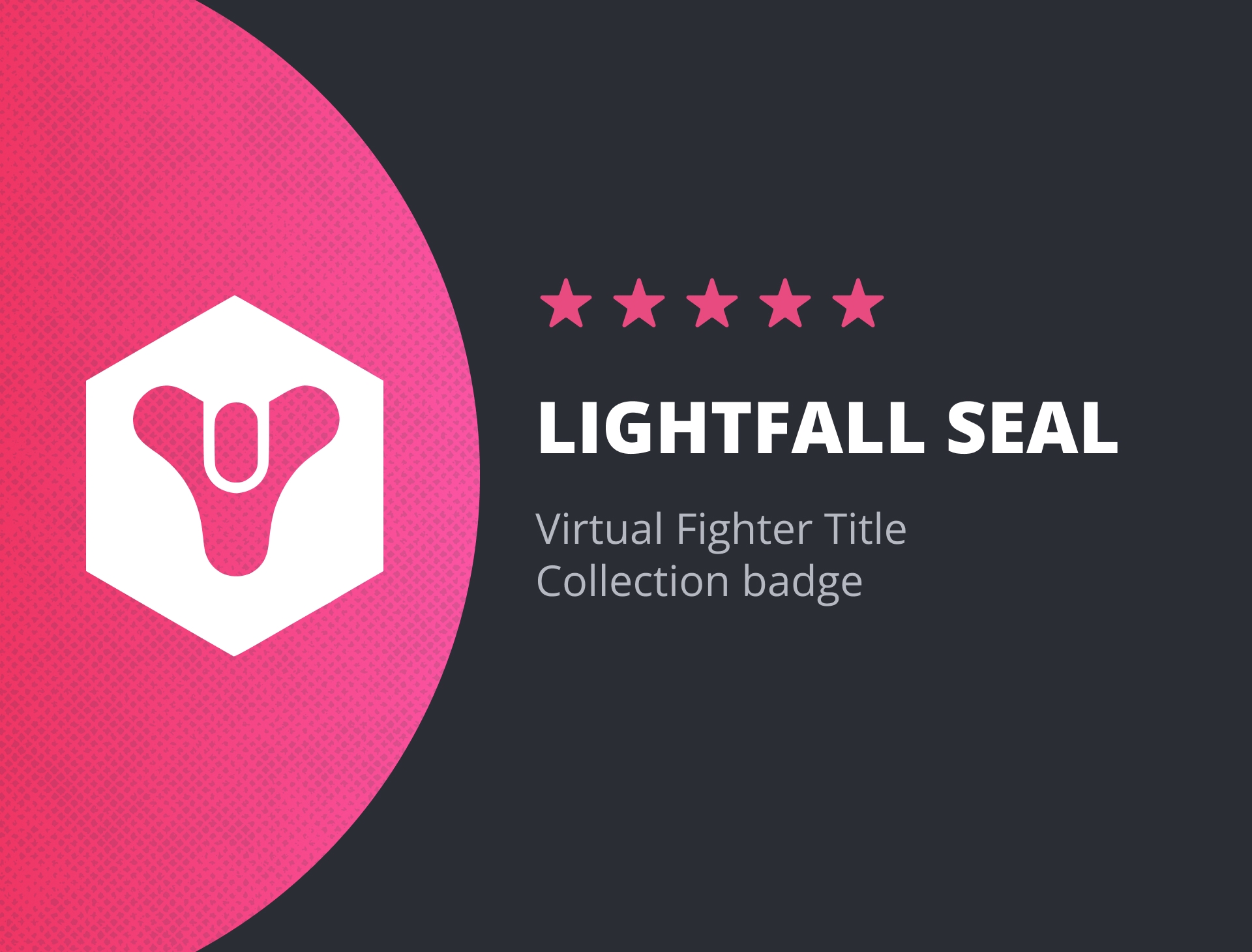 What you get


Progress
to your Lightfall Seal

Any gear and resources
that might drop during the service

Experience
for your Season Pass and Artifact
Options
Service requirements
Lightfall Expansion
Lightfall Campaign completed.
Obtain Lightfall Seal and Virtual Fighter Title!
Our professional players will help you complete the following Triumphs:
• Unfinished Buisness
• Restored and Remembered
• Overclocked
• Master of Survival
• Honorary Cloud Strider
• Terminal Treasures
• The Final Strand
• They're Not Dolls
//
Please note: if you have any progress, don't hesitate to get in touch with us via chat for a personal discount. And if you're looking for other Triumphs, check out the Lightfall Seal category.
Don't waste your time on a tedious grind. Let our players handle it while you are enjoying the game in the way you want to.
//
The service we offer is 100% secure, works for PC, PS, and Xbox.
Our player will use a VPN. Only pure skills, knowledge, and experience - no cheats or any hacks/exploits are involved. All prices include taxes and fees.
See what other players like you think about their experience with LFCarry.com
+ GGR cashback
Pay today and split the rest
How it works
1
Choose and Buy the service
Place an order after selecting all of the options that meet your requirements
2
Follow the Instructions
You will be asked to fill in specific details about your order
3
We Will Find the Most Suitable PRO
We'll select the best player who meets your expectations
4
During the order
You will have your own chat with a PRO player where you will receive all updates and can discuss everything in person or just chit-chat
5
Your order is complete
The best part is here. You can now fully enjoy your new loot, top rating, and achievements
Choosing Us - That's Your Smart Move
Total Security: Anonymous Boost Guaranteed
No cheats, hacks, or exploits are involved. Players use VPN to enter your account.
Fast Start & Furious Completion
We're ready for your order quick execution, but we are flexible to your schedule.
Top Value for Your Money
You can receive discounts based on your progress and by using our cashback and subscription programs.
We are Always Online
Just write in chat, and we will answer in a matter of minutes.
Overview
What Is The Virtual Fighter Seal Destiny 2?
The Virtual Fighter Seal in Destiny 2 is a prestigious title that showcases a player's mastery of the game's digital combat scenarios. Here's what you need to know about it.
The Virtual Fighter Seal is a title awarded to players who have demonstrated exceptional skill and commitment in specific game modes.
This Destiny 2 Virtual Fighter Title is often associated with specific activities or game modes, such as virtual training simulations or digital combat scenarios.
To earn this Seal, players must complete a series of challenges or Triumphs related to these game modes.
The Virtual Fighter Seal The Seal appears next to a player's name in the game, showcasing their achievement to other players.
Earning the Destiny 2 Virtual Fighter Seal is a rare and prestigious title, marking a player as one of the game's elite. Obtaining it can mark you as a top competitor in the game's most challenging modes.
How Can I Get The Virtual Fighter Title Destiny 2?
Obtaining the Virtual Fighter Destiny 2 Title is a significant accomplishment that requires skill, time, and mastery of specific game modes. Here's how you can achieve it.
Know the Requirements: Understand the specific challenges or Triumphs you must complete to earn the title.
Master the Modes: Become proficient in the game modes associated with the title, whether virtual training simulations, digital combat scenarios, or others.
Time Investment: Be prepared to invest significant time, as completing the necessary challenges may require numerous attempts and strategies.
Team Coordination: Some challenges may require effective teamwork. Coordinate with friends or find a reliable team to play with.
Consistent Play: Consistently play the game to improve your skills and progress steadily toward the title.
While obtaining the Destiny 2 Virtual Fighter Seal is challenging, the prestige and recognition that come with it make it a worthy goal for dedicated players. If you need a Lightfall Seal boost, the LFCarry team is here to back you up!
Why Should I Use LFCarry For A Virtual Fighter Title Destiny Boost?
Unlock the Virtual Fighter Title in Destiny 2 easily, thanks to LFCarry. Our team of professional gamers is ready to tackle the toughest challenges on your behalf, ensuring you secure the prestigious title without the stress and time commitment. Experience the game at your pace while we handle the grind. Pick our team at LFCarry.com today and elevate your Destiny 2 experience to new heights!
+ GGR cashback
Pay today and split the rest