Le Monarque Bow Boost
Excellent 4.8
out of 5
Trustpilot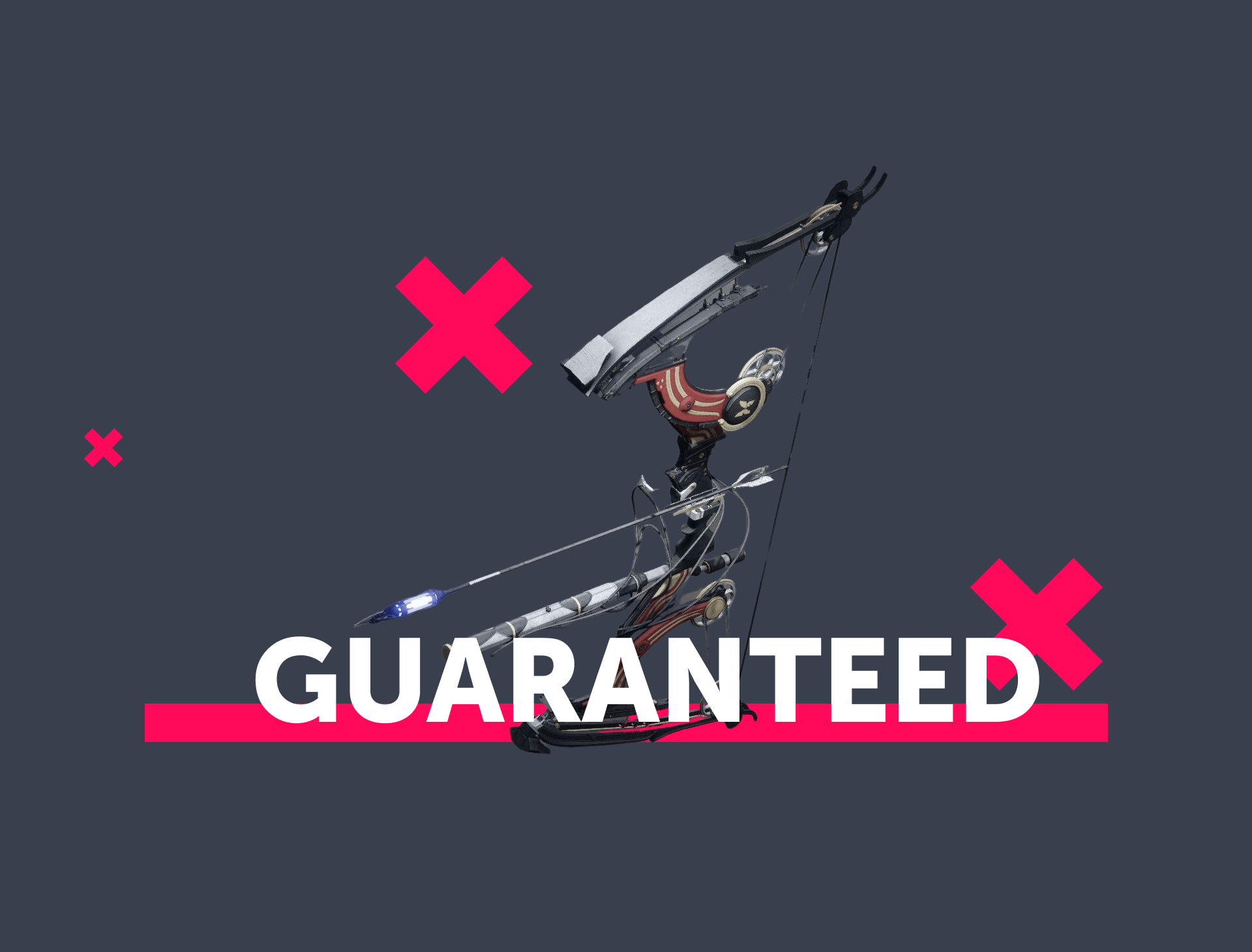 What you get

All currency
for obtaining weapon from Exotic Archive

Le Monarque
Exotic Energy Combat Bow farm

All items and resources
that might drop during this service

Experience
for your Season Pass and Artifact
Options
+ GGR cashback
Pay today and split the rest
How it works
1
Choose and Buy the service
Place an order after selecting all of the options that meet your requirements
2
Follow the Instructions
You will be asked to fill in specific details about your order
3
We Will Find the Most Suitable PRO
We'll select the best player who meets your expectations
4
During the order
You will have your own chat with a PRO player where you will receive all updates and can discuss everything in person or just chit-chat
5
Your order is complete
The best part is here. You can now fully enjoy your new loot, top rating, and achievements
Choosing Us - That's Your Smart Move
Total Security: Anonymous Boost Guaranteed
No cheats, hacks, or exploits are involved. Players use VPN to enter your account.
Fast Start & Furious Completion
We're ready for your order quick execution, but we are flexible to your schedule.
Top Value for Your Money
You can receive discounts based on your progress and by using our cashback and subscription programs.
We are Always Online
Just write in chat, and we will answer in a matter of minutes.
Overview
Exotic Bows in Destiny 2: A Guide to Le Monarque
Le Monarque is one of the most sought-after exotic bows in Destiny 2. With its unique perks and powerful poison damage, it is a must-have for any serious bow user. In this guide, we will take a closer look at Le Monarque and its abilities, as well as provide tips on how to obtain this coveted weapon.
Le Monarque's exotic perk is "Poison Arrows," which adds a poison effect to any arrow fired from the bow. This poison deals damage over time to enemies, and also spreads to nearby targets. Additionally, Le Monarque has the "Precision Frame" perk, which increases accuracy and stability when firing quickly. This makes Le Monarque an excellent choice for both single-target and crowd control situations. When paired with a Hunter's "Oathkeeper" exotic gauntlets, Le Monarque's draw time is significantly reduced, allowing for even faster and deadlier shots.
How to get Le Monarque?
To obtain Le Monarque, players must complete the "Mysterious Box" quest, which can be obtained from Ada-1 in the Tower. The quest requires players to collect a number of different items from across the solar system, and ultimately rewards them with Le Monarque. Once obtained, Le Monarque can be upgraded through its intrinsic Masterwork perk, which increases the poison effect's duration and damage. Players can also add mods to Le Monarque to further enhance its abilities, such as the "Freehand Grip" mod, which increases accuracy and stability when firing from the hip. Overall, Le Monarque is an excellent choice for any Guardian looking to add an exotic bow to their arsenal in Destiny 2. Le Monarque can only be purchased by players that own the Forsaken DLC. To get it the fastest way just contact our boosting service. Our PRO team will get this weapon for you fast and cheap.
+ GGR cashback
Pay today and split the rest