Master King's Fall Raid Harrowed Weapons Bundle
Excellent 4.8
out of 5
Trustpilot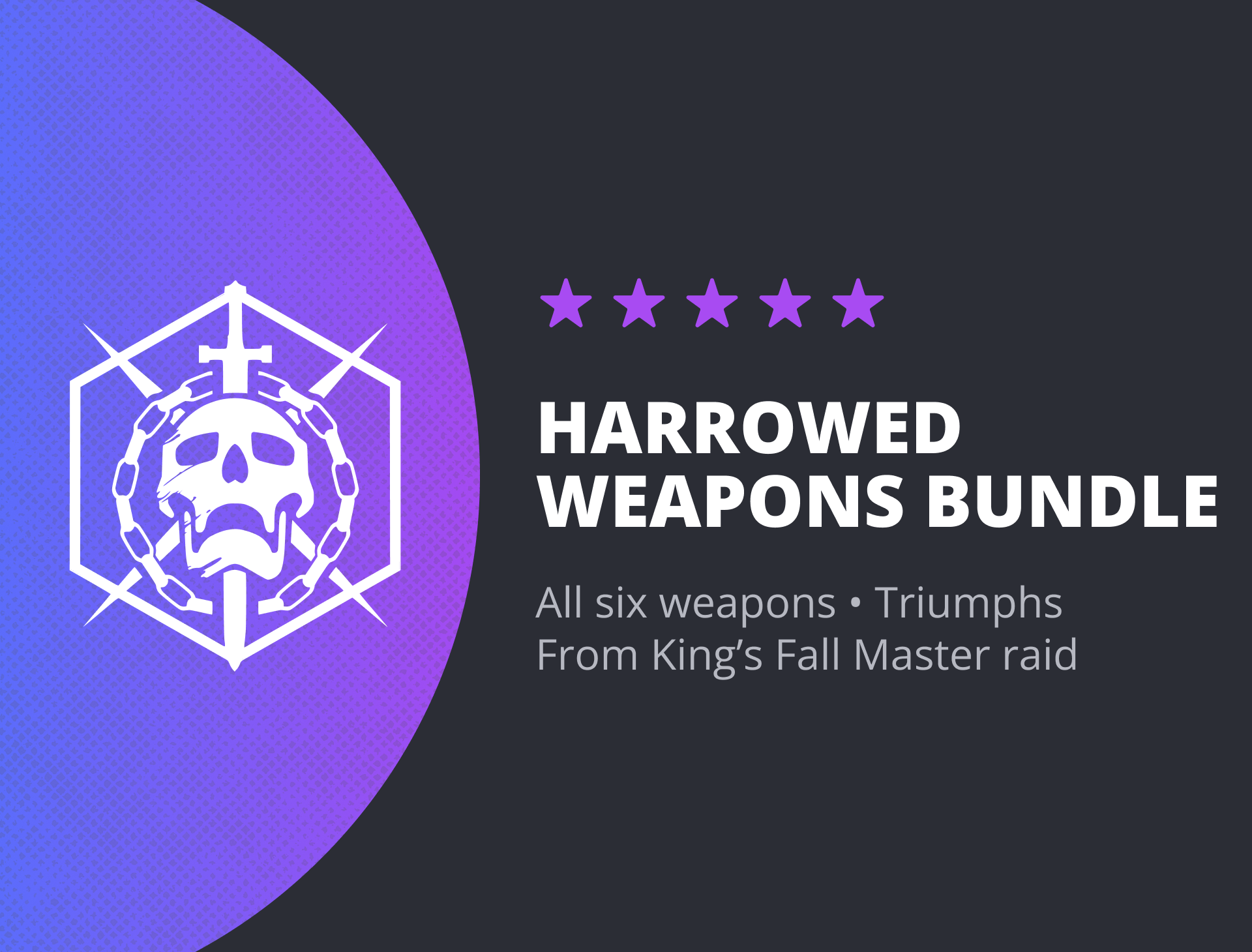 What you get

Six Harrowed weapons
from Master King's Fall Raid

Multiple
Weekly Challenges completed
Any gear and resources
that might drop during the service

Experience
for your Season Pass and Artifact
Options
Service requirements
King's Fall raid access
Power level 1820+ (or select an option with your current Power).
Please Note: your Power level plays the most significant role when you purchase this service. Would you mind checking the options below? The default price is for 1820+ Power level.
//
We believe we make your life a little more convenient and create full-fledged work in virtual worlds. Whether players invest mainly their time or purchase help in virtual worlds - LFCarry.com is your place to play.
Master King's Fall raid brings six Harrowed weapons with exclusive perks and fantastic looks.
//
This Bundle includes:
• Smite of Merain - Harrowed Pulse Rifle (Primary / Kinetic);
• Defiance of Yasmin - Harrowed Sniper Rifle (Special / Kinetic);
• Midha's Reckoning - Harrowed Fusion Rifle (Special / Arc);
• Zaouli's Bane - Harrowed Hand Cannon (Primary / Solar);
• Doom of Chelchis - Harrowed Scout Rifle (Primary / Void);
• Qullim's Terminus - Harrowed Machine Gun (Heavy / Stasis);
• 10% bundle discount.
//
How does our Harrowed Weapons Bundle service work?
After you place an order, we will go through our player's base and select one that will suit you best for your order. With his fireteam, our Pro player will complete Weekly Challenges to collect the full arsenal of Harrowed weapons for you to use in the future. You will have a private chat with your player. In this chat, the player will inform you of all progress and your order's current stat. You also can ask him any question. Alongside it, don't forget we have a 24/7 support team ready to help you.
//
We appreciate your time, money, and opinion, even if you'll get a sudden change of heart!
We guarantee compensation in GGR within the first hour after your purchase. Just let us know via chat that you've changed your mind.
//
The service we offer is 100% secure, works for PC, PS, and Xbox.
Our player will use a VPN. Only pure skills, knowledge, and experience - no cheats or any hacks/exploits involved. All prices include taxes and fees.
See what other players like you think about their experience with LFCarry.com.
+ GGR cashback
Pay today and split the rest
How it works
1
Choose and Buy the service
Place an order after selecting all of the options that meet your requirements
2
Follow the Instructions
You will be asked to fill in specific details about your order
3
We Will Find the Most Suitable PRO
We'll select the best player who meets your expectations
4
During the order
You will have your own chat with a PRO player where you will receive all updates and can discuss everything in person or just chit-chat
5
Your order is complete
The best part is here. You can now fully enjoy your new loot, top rating, and achievements
Choosing Us - That's Your Smart Move
Total Security: Anonymous Boost Guaranteed
No cheats, hacks, or exploits are involved. Players use VPN to enter your account.
Fast Start & Furious Completion
We're ready for your order quick execution, but we are flexible to your schedule.
Top Value for Your Money
You can receive discounts based on your progress and by using our cashback and subscription programs.
We are Always Online
Just write in chat, and we will answer in a matter of minutes.
Overview
What Are Destiny 2 Harrowed Weapons?
Within the thrilling world of Destiny 2 lies an exclusive group of enhanced gear known as Harrowed Weapons. They are the sought-after trophy for the discerning player and can be acquired via King's Fall Raid. These D2 Harrowed Weapons, being superior versions of their standard counterparts, offer dual perks and enhanced masterwork stats. Here they are:
How to Get Harrowed Weapons Destiny 2 and Why Might it be Hard?
As we've mentioned above, the source of these Harrowed weapons is King's Fall, though in order to obtain the firearms, you need to complete it on Master difficulty, which is a daunting task for a number of reasons. The trials include:
Completing the raid on Master difficulty is a formidable challenge for even the most seasoned Destiny 2 players who want to get those Harrowed Destiny 2 weapons

The struggle of gathering a capable team and coordinating a successful raid attempt

The chance that you'll have to go through several attempts before you can complete the activity and acquire all Kings Fall Harrowed weapons

It takes a considerable time to finish the raid

And many more
Considering these difficulties, a question naturally arises - is there a better way? The answer is LFCarry, offering assistance in acquiring Harrowed King's Fall weapons, making the impossible possible.
Why Choose LFCarry to Obtain Harrowed Weapons Destiny 2?
With LFCarry at your side, you don't have to face the daunting tasks alone. Here's why we are the best service to provide you with the King's Fall Harrowed weapons:
Experienced Professionals: Our skilled team can maneuver through the raid with precision, ensuring the acquisition of your desired Harrowed gear.

Efficiency: We complete the tasks swiftly, saving your time and effort

Reliability: Trust us to deliver on our promise, providing you with the King's Fall Destiny 2 weapons you covet

Security: Your account safety and security are our top priority. Rest assured that your information is safe with us.

No cheats: Our experts use only their knowledge, skill, and honest methods of work to deliver you Kings Fall weapons

Tailored Service: We customize our services to match your unique needs and preferences

Value for Money: LFCarry's services, such as Emblem Weapon Master, are priced reasonably, ensuring quality without burning a hole in your pocket

Customer support: Our specialists work around the clock to assist you with any questions or concerns you might have at any time!
If you're wondering Destiny 2 how to get Harrowed Weapons without the daunting grind, your search ends at LFCarry. Our professional players will do their best to get you all six weapons from the raid fast and securely. Place an order on LFCarry.com right now and see the results for yourself!
Destiny Weapon Pack: The Ultimate Solution for Harrowed Weapons
Are you tired of struggling to acquire harrowed weapons in Destiny? Look no further than the Destiny Weapon Pack! This comprehensive pack includes all of the harrowed weapons you need to defeat even the toughest enemies in Destiny. With this pack, you can save time and frustration, as you will have immediate access to the most powerful weapons in the game. Say goodbye to endless grinding and hello to victory with the Destiny Weapon Pack.
The Destiny Weapon Pack includes a wide range of harrowed weapons, including hand cannons, pulse rifles, sniper rifles, and more. Each weapon is carefully selected to provide maximum effectiveness in battle, and is guaranteed to enhance your Destiny experience. With these weapons in your arsenal, you will be well-equipped to take on the most challenging foes and emerge victorious. Don't miss out on this opportunity to level up your Destiny gameplay and dominate the competition with the Destiny Weapon Pack.
Why Choose the Destiny Weapon Pack?
The Destiny Weapon Pack is the ultimate solution for players who want to quickly and easily acquire harrowed weapons in Destiny. With this pack, you don't have to waste time grinding for weapons or hoping for lucky drops. Instead, you can immediately access the most powerful weapons in the game and start dominating the competition.
In addition, the Destiny Weapon Pack is carefully curated to include only the most effective weapons for battle. Each weapon has been tested and selected to ensure maximum performance, so you can be confident that you are getting the best of the best. Whether you are a seasoned player or a newcomer to the game, the Destiny Weapon Pack is the perfect way to level up your gameplay and achieve victory.
Want to dominate the King's Fall raid in Destiny 2 with the best gear possible? Let LFCarry help you acquire the King's Fall armor set with our boosting services.
The Kings Fall Armor set is a must-have for any serious Destiny 2 player. Let LFCarry's boosting services help you get it right here.
+ GGR cashback
Pay today and split the rest