Cataclysmic Linear Fusion Farm
Excellent 4.8
out of 5
Trustpilot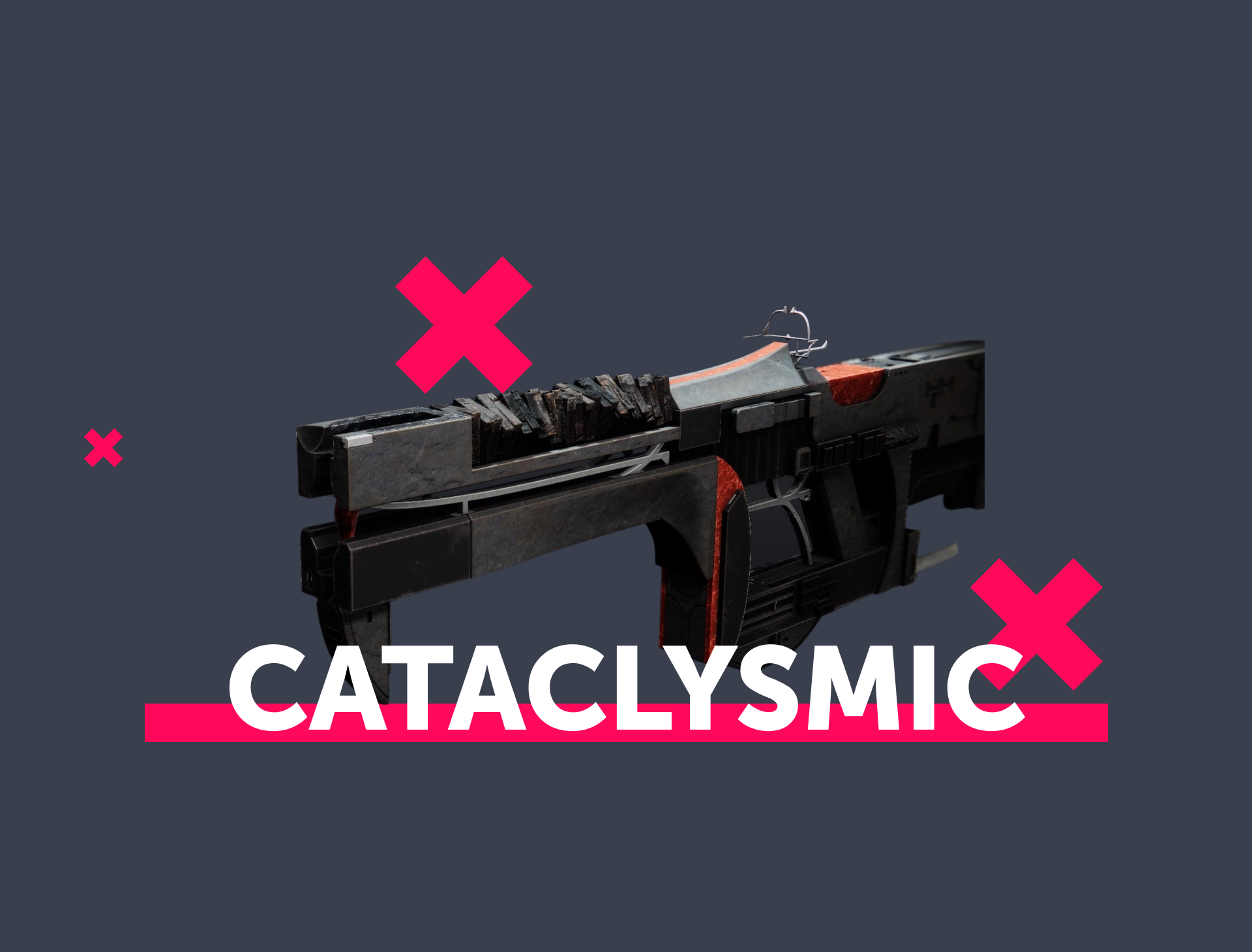 What you get

Desired number
of Cataclysmic rolls

Experience
for your Season Pass and Artifact
Service requirements
Power level 1600+
Witch Queen expansion
Vow of The Disciple raid access
Get this fantastic new weapon from Vow of The Disciple raid! It has some truly unique looks and perks.
//
After you place an order, a high-skilled Destiny veteran player will play the game for you to obtain the desired amount of rolls for this weapon.
You will keep track of the progress and ask any related questions in a dedicated chat directly with your player. Alongside it, don't forget we have a 24-7 support team ready to help you.
//
Let us tell you about the Enhanced God Roll feature. We will craft this weapon with Enhanced perks for you. These perks grant you an advantage in PvE and PvP content, and you are free to choose which ones you want. Check it out here in the catalog.
//
The service is 100% guaranteed and safe, works for PC, PS, and Xbox.
Our player will use a VPN. Only pure skills, knowledge, and experience - no cheats or any hacks/exploits are involved. All prices include taxes and fees.
See what other players like you think about their experience with LFCarry.com. <- Youtube Link
+ GGR cashback
Pay today and split the rest
How it works
1
Choose and Buy the service
Place an order after selecting all of the options that meet your requirements
2
Follow the Instructions
You will be asked to fill in specific details about your order
3
We Will Find the Most Suitable PRO
We'll select the best player who meets your expectations
4
During the order
You will have your own chat with a PRO player where you will receive all updates and can discuss everything in person or just chit-chat
5
Your order is complete
The best part is here. You can now fully enjoy your new loot, top rating, and achievements
Choosing Us - That's Your Smart Move
Total Security: Anonymous Boost Guaranteed
No cheats, hacks, or exploits are involved. Players use VPN to enter your account.
Fast Start & Furious Completion
We're ready for your order quick execution, but we are flexible to your schedule.
Top Value for Your Money
You can receive discounts based on your progress and by using our cashback and subscription programs.
We are Always Online
Just write in chat, and we will answer in a matter of minutes.
Overview
Destiny 2 Cataclysmic Farm: Unlock the Ultimate Weapon with LFCarry
Are you on the hunt for the ultimate weapon in Destiny 2? Look no further than the Cataclysmic, a powerful weapon with a range of exclusive features designed to help you dominate the battlefield. But to unlock the full potential of the Cataclysmic, you'll need to embark on a challenging Cataclysmic farm, taking on a range of tough enemies and completing difficult tasks to earn the weapon's powerful perks.
At LFCarry, we're dedicated to helping you achieve your Destiny 2 goals, no matter how big or small. That's why we offer a range of exclusive packages and services designed to help you level up your game and unlock the full potential of the Cataclysmic and other powerful weapons.
Our team of expert boosters will work with you every step of the way to help you complete your Cataclysmic farm and unlock the ultimate weapon. We'll provide you with the support and guidance you need to overcome even the toughest challenges and acquire the gear and weapons you need to become the ultimate guardian.
So what are you waiting for? If you're ready to take on the challenge of the Destiny 2 Cataclysmic farm and unlock the ultimate weapon, contact LFCarry today to learn more about our exclusive packages and services. Let us help you achieve your Destiny 2 goals and become the ultimate guardian.
+ GGR cashback
Pay today and split the rest